Low fibre diet
Read our guide below about to help you understand how to restrict your fibre intake for a medical reason.
You can also download a PDF version of this patient information by following the link on the right.
Who needs to follow a low fibre diet?
You may need to follow a low fibre diet if you have:
bowel adhesions or narrowing of the colon
during an active flare-up of ulcerative colitis, Crohn's disease or diverticulitis
diarrhoea
excessive wind and bloating
abdominal pain or cramping
irritable bowel syndrome (IBS)
a high output ileostomy/colostomy.
You may also need to follow a low fibre diet:
before and/or after surgery
after the insertion of a colonic stent
You will be advised exactly how to do this with the guidance and support of your dietitian.
What is fibre?
Dietary fibre (also known as roughage) is the part of food that can not be easily digested.
Our small intestine does not digest fibre. It moves into our colon or large intestine where some of it will breaks down. Fibre also helps our stools form a 'bulk' and makes them solid.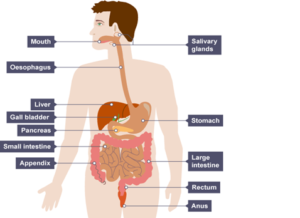 Different types of fibre
There are two main types of fibre – soluble and insoluble fibre.
Soluble fibre
It's easily digested in our large intestines/colon and dissolves with water to form a gel.
Examples include:
porridge oats
the flesh of fruits, for example apples, pears and bananas
root vegetables.
Insoluble fibre
It passes through our body without breaking down or absorbing. For example:
the skins, pips and seeds of fruit and vegetables
fibrous fruits and vegetables, for example, rhubarb, celery
raw or undercooked vegetables
vegetables that humans can not digest, for example, mushrooms, sweetcorn, lettuce and other salad leaves.
Tomatoes have the 2 different stypes of fibre. The fleshy part of the tomato has soluble fibre. This will dissolve in the large intestine and helps to add bulk to stools.
The seeds and skin of a tomato contain insoluble fibre. Your gut can not digest them.
What is a low fibre diet?
It helps you to reduce the volume and frequency of your stool. It also lengthens the time food passes through your gut.
How long will I need to follow this diet?
We usually only it for a short period of time. Your dietitian will follow your progress and advise you on the next stage of your treatment.
What foods do I need to avoid and what can I eat?
These include:
the pips, skins and seeds of fruits and vegetables
wholegrains
pulses
beans.
You must limit how many fruit and vegetables you eat. You must aim to have no more than 1 portion of fruit and 1 portion of vegetables each day.  A portion is roughly 80 grams, or the equivalent of a handful.
You'll find a full list of foods to avoid and which ones you can eat by food type below. Always choose from the 'foods allowed' lists.
What kind of meals can I eat?
How and when should I reintroduce fibre to my diet?
This should be done slowly and with the advice of the dietitian looking after you. They'll tell you when it's safe to start eating more fibre.
When you're allowed to relax your diet, start by introducing one food at a time.
About our patient information pages and leaflets
This patient advice is intended as general information only. We aim to make the information as up to date and accurate as possible, but please note that it is subject to change.
Always check specific advice on any concerns you may have with your doctor.
With acknowledgement to The Royal Surrey County NHS Foundation Trust Department of Nutrition and Dietetics for permission to reproduce this information.
Contact us
Nutrition and Dietetics
01296 315775