Trust unveils Defence Employer Recognition Scheme and Veteran Aware plaques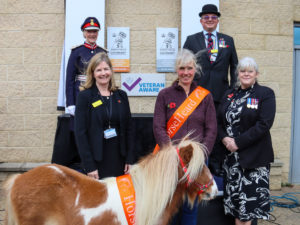 On Thursday 10 November, His Majesty's Lord-Lieutenant of Buckinghamshire, the Countess Howe joined staff, patients and their families to unveil three new plaques at Stoke Mandeville Hospital.
Two plaques are for the Defence Employer Recognition Scheme (ERS) Bronze and Silver Awards and the third is for the Trust's Veteran Aware status.
Representatives from the RAF Benevolent Fund and Royal British Legion also attended the event along with Jonnie a Shetland pony, from the charity HorseHeard. Jonnie then visited our children and young people on Ward 3 and St Francis, in the NSIC, and without doubt brightened everyone's day.
Bridget O'Kelly, Chief People Officer for the Trust said: "We are committed to ensuring we support our Armed Forces community and their families. It was great being able to celebrate the achievement of the Trust achieving both Bronze and Silver ERS awards as well as Veteran Aware status this year with Lady Howe, patients, their families and colleagues."
Lady Howe said: "It was a huge pleasure to be at Stoke Mandeville Hospital to celebrate the achievement of Buckinghamshire Healthcare NHS Trust in receiving Bronze and Silver Employer Recognition Status as well as their Veteran Aware Accreditation. The plaques displayed proudly at the main entrance to the hospital represent the Trust's significant pledge to treat our armed forces community – those who are serving or have served, and their families – with fairness and respect."