'Don't splash and dash' – our message for World Hand Hygiene day
'Don't splash and dash when it comes to handwashing' is the message from our Infection Prevention Control (IPC) team this World Hand Hygiene Day (Thursday 5 May 2022).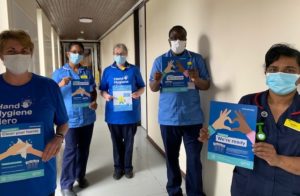 Easily identified in their blue 'hand hygiene hero' t-shirts, the team are visiting sites across the Trust – Stoke Mandeville, Wycombe and Amersham hospitals – to spread the word among patients and visitors.
Jo Shackleton, Head of Nursing for Infection Prevention Control for the Trust, explains: "We all know washing our hands is important, but it's easy to cut corners if you're busy and perhaps think it doesn't matter just this once. World Hand Hygiene Day is a timely reminder to us all to not 'splash and dash'. Whether you're using soap and water or alcohol-based handrub, you need to clean your hands properly every single time. We all need to be hand hygiene heroes!"
Jo's top tips for handwashing:
When it comes to handwashing, don't splash and dash! Instead, take the time to wash your hands thoroughly.
Washing with soap and water reduces germs on your hands.
Watch the World Health Organisation video: How to handwash? With soap and water
When washing hands, remember these steps:

wet hands with water
apply soap
rub hands all over – including fingers, palms, back of hands and wrists – for at least 15 seconds
rinse hands with water
dry with a clean towel or paper towel

An alcohol-based handrub can be very effective, but it essential to only use handrub if your hands are not visibly dirty. Use enough handrub to cover your hands thoroughly before it dries. This should take about 20 seconds.
For more Infection Prevention Control information, visit www.buckshealthcare.nhs.uk/our-services/infection-control