Board affiliate blog – Hannah Hornby – September 2022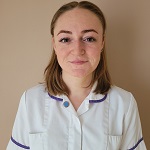 My name is Hannah Hornby and I have recently been appointed as the new non-medical Board Affiliate at BHT. I am currently working as a Speech and Language Therapist at Stoke Mandeville Hospital where I care for adult patients with dysphagia (eating, drinking and swallowing difficulties) on the acute and critical care wards.
I have been qualified since 2013 and have happily worked full time in clinical roles ever since, but towards the end of 2021 and with 8 years of experience under my belt I started to think about the possibility of trying something different. I love my job and I love working directly with patients, but I wanted to explore how I could use my clinical skills, experience and passion for healthcare to influence change at a different level.
That is when I came across the Trainee Leadership Board* (TLB) at BHT. After being successful in my application I spent 5 months working with like-minded colleagues on a real Trust project to develop a list of recommendations for the Board to consider in order to meet the Trust strategy of improving health inequalities. This was a tough challenge and nothing like clinical service development projects that I had been involved in before, but I thoroughly enjoyed the process and it gave me an appetite to continue my management and leadership journey.
After a brief interlude to get married and buy a new house, I spotted an application form for the Board Affiliate* role on a Trust communications email- immediately my interest was piqued and before I had chance to apply several of my colleagues got in touch to suggest I go for it as it sounded right up my street. After a mildly terrifying interview (although I was assured that it was just an informal conversation) with the Trust Chair, Chief Nurse and one of the Non-executive Directors I was informed that I got the job!
My first thought was 'ohh no, what have I done?!' but once I'd spoken to a few of my new colleagues I quickly settled into the thought of embarking on this new challenge and was excided to see where it might take me. I reflected on the application and interview process and after receiving some feedback it's clear to me that to be successful in this post you must have a passion for leadership, enthusiasm for change and clearly defined personal values, and these are the things that were evaluated during this process rather than knowledge of how a hospital runs and how a board works- that's a whole new world of learning for me to enter!
I will keep you updated with my progress and reflections over the next 18 months and I hope you enjoy learning more about my time as Board Affiliate. If you have any questions, comments or other insights please do feel free to contact me via email Hannah.hornby@nhs.net.
*The Trainee Leadership Board is an internal programme which offers participants insights into and real experiences of BHT structures, governance and decision-making, culminating with work on a 'real world' problem and presentation to the Trust board.
*The Board Affiliate role is also accountable to the Chair of the Trust. It plays a crucial role in providing direct insight into day-to-day operations of clinical activity. The role will bring further diversity to the Board and is intended to improve the links between employees and senior leaders. It will provide experiences that will support the development of future NHS leadership and a reciprocal learning experience for Executive and Non-Executive Directors.