NHS marks back to school in Bucks with work experience award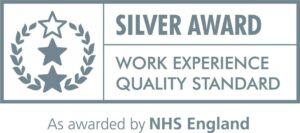 Buckinghamshire Healthcare NHS Trust (BHT) is celebrating the start of the academic year with news of an award for its new Bright Futures @BHT work experience programme.
NHS England has recognised its achievements with a Work Experience Quality Standard Silver Award, praising it for being accessible to all students equally and for great buy-in from colleagues. Since launching an initial pilot in February, the Trust has now given over 250 young people the chance to see first-hand the rewarding careers offered by the NHS.
Bridget O'Kelly, Chief People Officer for the Trust commented: "We are delighted to welcome so many talented and motivated young people from our local communities. We are committed to inspiring and supporting local students from across Buckinghamshire to find out about careers in the NHS."
There's now also an opportunity for young people to discover more about careers in nursing and midwifery at an after-school event on Thursday 21 September from 5 – 7pm at Stoke Mandeville Hospital. Secondary school students can book free tickets on Eventbrite.
Applications for autumn half-term work experience placements are now open: find out more and apply at BrigHT Futures @BHT.