Bucks Inpatient Pain Team and Breast Unit finalists in 2023 HSJ Awards
Buckinghamshire Healthcare NHS Trust is delighted to announce that its Inpatient Pain Team's Mobile Block Unit at Stoke Mandeville Hospital and the Breast Unit located at Wycombe Hospital are both finalists in this year's prestigious Health Service Journal (HSJ) Awards.
The Breast unit has been shortlisted in the Acute Sector innovation of the year category
The Breast Unit was one of the first in the UK to use the MagTotal approach to improve the surgical process for treating some breast cancers. This involves a small single-use metal device, designed to accurately mark the site of a breast cancer lesion for surgical removal, and a lymphatic tracer, used as an alternative to radioactive tracers for breast cancer staging, all in one single surgery. This means greater accuracy, less operating time and improves surgery for both the patient and hospital team.
Consultant Breast Surgeon, Dr Fiona Tsang-Wright said: "I am so proud that our breast unit has been shortlisted by the HSJ for our use of the MagTotal approach. This method is brilliant for our Buckinghamshire patients because it makes the day of surgery so much less stressful and uses magnetic technology for the accurate and precise removal of their cancer. It also means that the team can perform two essential surgeries with just one machine and forego the need to use radioactive solutions. It's a win-win for patient and clinician."
The Pain Team's mobile block unit has been shortlisted in the medicines, pharmacy and prescribing initiative of the year category
The Mobile Block Unit provides rapid regional analgesia – numbing a particular part of the body for pain relief – for patients admitted with traumatic rib fractures and who are at risk of deterioration, wherever they are in the hospital and not just in theatres. This service is a first for an NHS Trust in the region. Since establishing the Mobile Block Unit, ICU admissions from rib fractures have fallen from 22% to less than 1%, and deaths in 30 days from 9% to 5%.
Dr Nav Bahal, Lead Consultant for Inpatient Pain Services at Buckinghamshire Healthcare NHS Trust said: "I am very proud to lead our Acute Pain Team. It's great to gain recognition for a team who have thought outside the box, working with stakeholders and patients to find a solution to significantly improve the experience of rib fracture patients at risk of rapid deterioration."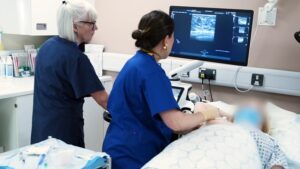 Above: Dr Chin Ng, Clinical Lead for Breast Imaging (right) with Mrs Karen Lowe, Senior Mammographer (left).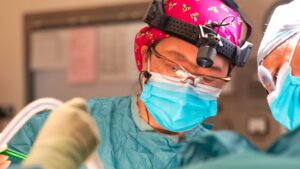 Above: Dr Fiona Tsang-Wright, Consultant Breast and Reconstructive Surgeon (centre) with Mr Hussein Al-Musawy, Specialty Doctor (to the right of the picture).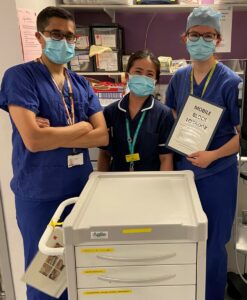 Above (left to right): Members of inpatient pain team Dr Nav Bahal, Jia Ngu – Pain Specialist Nurse, and Dr Sophie Jackman.