Recognition for our Trust Heart Rhythm team
The Trust Heart Rhythm team has been recognised as Atrial Fibrillation (AF) and Supraventricular tachycardia (SVT) pioneers. The team were presented with their awards at a ceremony hosted by the Arrhythmia Alliance Association at the Palace of Westminster on Thursday 8 June. They were recognised for their pioneering work in the implementation of a nurse-led Amiodarone Initiation Clinic and the Mobile Kardia Service. Special congratulations to Megan Dale, one of our Cardiac Physiologists, who received a second prize award for the Kardia clinic at Wycombe Hospital. In addition, the Trust was recognised as a Centre of Excellence for Atrial Fibrillation.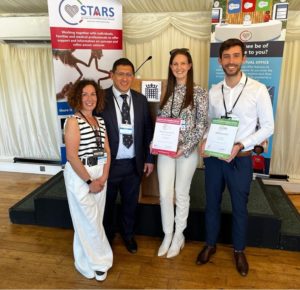 The team with their awards. (From left to right) Tara Meredith arrhythmia nurse specialist; Dr Norman Qureshi – Consultant Cardiologist and Electrophysiologist; Megan Dale – cardiac physiologist, Gil Sousa arrhythmia nurse specialist.
Arrhythmia Alliance Healthcare Pioneers reports for 2023:
The Arrhythmia Alliance is a coalition of charities, patient groups, patients, caregivers, healthcare professionals, medical organisations and allied professionals all working together to improve the diagnosis, treatment, and quality of life for all those affected by arrhythmias.  Although these groups remain independent, they work under the A-A umbrella to promote timely and effective diagnosis and treatment of arrhythmias. A-A provides support, information, education, and awareness to all those affected by or involved in the care of cardiac arrhythmias.