Bucks resident urges people not to put off having their flu jab
A 64-year-old woman who was hospitalised after testing positive for flu and pneumonia, only days after Christmas Day, is urging people not to put off having their flu jab if eligible.
Her message comes at a time when flu cases in hospital jumped up by almost a half (47%) last week, as staff in NHS 111 answered a near record number of calls.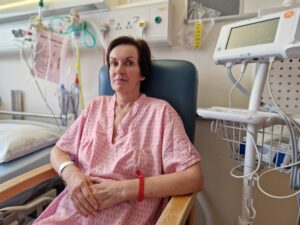 Carole Hildreth was admitted to Stoke Mandeville Hospital in Aylesbury on Boxing Day (26/12) after feeling very unwell. An ambulance was sent to Carole's home address after her husband contacted NHS 111 who carried out a detailed assessment.
The grandmother from Buckinghamshire was left needing oxygen and IV antibiotics at the hospital's respiratory ward in Aylesbury, after contracting the infections which left her feeling exhausted, unable to even walk to the toilet, and regretting not getting the free, annual flu vaccination.
She said: "Having flu like this came as a massive shock, totally out of the blue. Looking back, not having the vaccine was just stupid. I'm always healthy and I felt invincible I suppose – we have had a number of vaccines throughout the pandemic.
"I've been in hospital for nearly two weeks, first in the Emergency Department and then on a respiratory ward. I now struggle to get enough energy to walk to the toilet – never mind chasing after my grandchildren like I usually do."
Speaking from her hospital bed, she added: "I haven't been able to fault the care I've received. The NHS staff kept me alive and got me going again. It's so busy when you get to the Emergency Department, but they immediately swung into action and helped me and did their very best.
"I'd say to others to please think carefully – this has been devastating and put me back on track of being up-to-date with my vaccinations. I'd urge everyone please, please, please, if you get the chance to have a vaccine, take it. I'll be first in the queue next time."
Dr Vaughan Lewis, NHS Medical Director South East, said: "It is both heart-breaking to hear the story of Carole and many others who have been hospitalised with flu, and heart-warming that they have received such brilliant care from NHS staff during what are undoubtedly very testing times.
"With hospital cases for flu at their highest yet this winter, I would really encourage anyone who has been invited for a flu vaccine but yet to take it up, to do so as soon as possible."
Those eligible for the flu jab include all people aged 50 and over, health and social care workers, people aged 6 months and over and considered "at risk" due to another medical condition, as well as pregnant women and children aged two and three.
Children are able to receive their vaccination via a nasal spray and are encouraged to get the vaccine to not only protect themselves but reduce transmissions to others at risk.
For more information on how to book a flu vaccination if eligible, please visit http://nhs.uk/wintervaccinations.
Watch a video message from Carole about her experience: