Local MP, Sarah Green, visits patients and staff at the aquatic therapy pool at Amersham Hospital
Trust Chief Executive Officer, Neil Macdonald, along with the Aquatic Physiotherapy Team welcomed Sarah Green MP to Amersham Hospital this week to visit patients and staff at the aquatic therapy pool facilities.
Ms Green met with patients who had benefitted from aquatic physiotherapy treatment at the Hospital. They told Ms Green how their health and wellbeing had improved since using the upgraded pool facilities and what a difference it had made to their lives.
Since the pool was officially re-opened in February this year, following work to upgrade the facilities, the Aquatic Physiotherapy Team at Amersham have been able to work with groups of patients and provide vital rehabilitation for a variety of conditions including, post-surgical recovery, pain management, rheumatism, neurological conditions and also to enable certain patients to potentially avoid the need for surgery procedures altogether.
Aquatic physiotherapy differs from other water-based exercise such as swimming or aqua aerobics because it involves prescribed exercises completed in a warm, accessible hydrotherapy pool with a physiotherapist. It also allows people to develop skills to self-manage their condition, maintain a good quality of life and reduce dependence on long-term medication.
The new bigger pool at Amersham enables the physiotherapists to offer an increased variety of aquatic therapy techniques. As well as increasing the size of the pool, improvements have been made to provide ease of access with improved safety measures including level access and non-slip surfaces.
While at the hospital, Ms Green also saw a demonstration of the new ceiling track hoist with chair and stretcher, which allows ease of access to all areas of the pool area and minimises the amount of manual handling required by staff.  In addition, the original high ceiling over the pool has been lowered which has improved temperature regulation and energy efficiency.
Speaking about her visit, Sarah Green MP says:
"Hearing from the patients about how their health and wellbeing has significantly improved after sessions in the upgraded pool at Amersham really highlights to me how important Aquatic Physiotherapy treatment is. I understand it is considered a key element in the range of strategies that will help to reduce waiting lists in the wake of the pandemic and I am impressed that local patients have access to this newly updated facility. The team at Amersham Hospital are clearly very passionate about their pool and the difference it makes to their patients which is wonderful to witness."
Neil Macdonald, Chief Executive of Buckinghamshire Healthcare NHS Trust, says:
"I'm very proud to see these great facilities in action and to observe the care and passion of our physio team, who have so much dedication and drive to provide patients with the best therapy options. It's fantastic that in making these upgrades we've not just improved the experience for our colleagues and patients but have also been able to make the facilities more energy efficient – a great result in terms of management of public funds and our ambition to become a greener organisation."
Kirsty Campbell, Team Lead Musculoskeletal Physiotherapy and Aquatic Therapy, says:
"It has now been 6 months since the official opening and it has been incredibly rewarding to see our patients achieve their recovery goals and manage their symptoms and long term conditions as a result of these fantastic new facilities. This is particularly appreciated given that in other parts of the UK, hydrotherapy pools are under threat of closure or have been closed due to lack of funding. I am pleased to support the Chartered Society of Physiotherapy's national campaign to promote the benefits of Aquatic Physiotherapy so that more patients like ours can have the access to these important services and I was delighted to have the time with our local MP, Sarah Green, to showcase what is being achieved for our patients."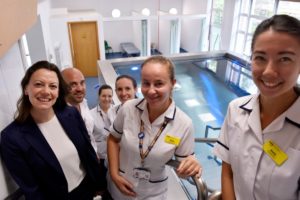 (pictured above) from L to R: Sarah Green, MP; Trust CEO Neil Macdonald; Hannah Daughtrey; Helen Seaman; Kirsty Campbell and Emily Westwood.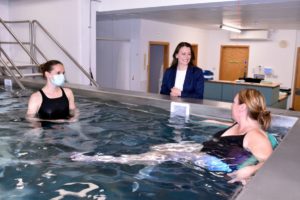 (pictured above): Sarah Green chats to patient Jane Riley during an aquatic therapy session with her physiotherapist Helen Seaman