Buckinghamshire Junior Doctor wins prestigious national award for ground-breaking research into pancreatic cancer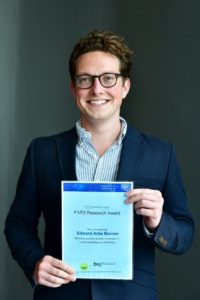 A junior doctor at Buckinghamshire Healthcare NHS Trust has gained a top prize in the prestigious 2022 Dr Falk-Pharma/Guts UK Charity national awards.
Dr Edward Arbe-Barnes won the F1/F2 Research Award for his research into the biology of pancreatic cancer.
The project, entitled 'Single Cell RNA Sequencing of Pancreatic Ductal Adenocarcinoma (PDAC) Epithelial Cells' is being undertaken at the Department of Oncology, University of Oxford.
Dr Arbe-Barnes was presented with his award and a £2,500 project support prize at the annual meeting of the British Gastroenterology Society (BSG) on Tuesday June 21st. The ceremony took place during a special dinner at the Radisson Blu Hotel in Birmingham, with the awards presented by the Chair of the BSG and attended by other illustrious names in gastroenterology medicine along with the CEO of Guts UK.
Dr Arbe-Barnes explains, "Pancreatic ductal adenocarcinoma (PDAC) is a common cancer with a dismal prognosis. It is notable for the high proportion of non-malignant cells which make up a tumour. We hypothesise that this dense stroma might mask some of the biology of malignant cells when studying whole tissue using bulk techniques. We anticipate that using newer techniques to investigate epithelial cells at the single cell level will yield valuable insights into how malignant cells drive PDAC progression.
"We will study pancreatic cancer cells using a technique called single cell RNA sequencing (scRNA seq), which shows which genes each individual cell is expressing. This means you can characterise each cell, and study how they behave, in very high resolution. I hope that this study will yield insights into the biology of pancreatic cancer and may identify new potential targets for treatment."
The Dr Falk Pharma/Guts UK Awards are dedicated to encouraging research and promoting patient care in the field of gastroenterology and hepatology. Since 2007 they have rewarded over 120 dedicated young healthcare professionals, including medical students, junior doctors, nurses and dietitians.