Roll up your sleeve for a free May Measure Month blood pressure check-up at Wycombe Hospital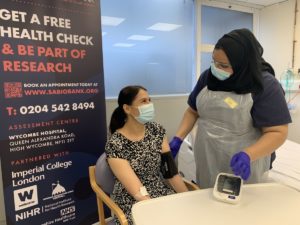 Wycombe Hospital is inviting local residents to roll up their sleeves and drop in for a free blood pressure check-up between 10am – 2pm this Friday (20 May) as part of May Measure Month (MMM).
Buckinghamshire Healthcare NHS Trust (BHT) is partnering with the global screening awareness campaign to highlight the importance of measuring your blood pressure (BP) and to raise awareness in the community of the dangers posed by raised BP (hypertension).
What: MMM blood pressure check-ups
When: Friday 20 May from 10am – 2pm (no appointment needed)
Where: Wycombe Hospital main entrance foyer
Who: Cardiac research staff invite all members of the public over 18 years old to drop in for a test
The NHS recommends that everyone aged 40 and over should get their blood pressure checked regularly to help prevent the risk of heart attacks and stroke.
Nicola Bowers, Clinical Academic Nurse Lead for Integrated Medicine at BHT, said: "The simple check just takes a few minutes, and afterwards we'll give anyone with high blood pressure advice about what they need to do next, such as help with improving diet and lifestyle. High blood pressure is a major preventable cause of death worldwide: if this hidden danger is picked up early, it can be treated successfully and life-threatening events such as stroke and heart attack prevented."
Dr Barry McDonnell, MMM lead for UK and Ireland, said: "We are delighted to have Buckinghamshire Healthcare NHS Trust partner our May Measure Month blood pressure awareness campaign this year by providing free blood pressure checks, increasing awareness and helping to identify those unaware of their blood pressure in the community. We encourage anyone in the local area to drop in and have their blood pressure checked."
If you are unable to attend the screening on Friday 20 May you can get your blood pressure tested at a number of places, including: your local GP surgery and some pharmacies. If you're aged 40 to 74, you can have this test done as part of an NHS Health Check which is offered to adults in England every 5 years.