Local community groups fundraise to enhance staff wellbeing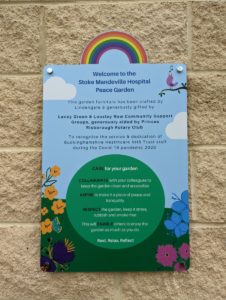 Local community groups have fundraised over £2000 for Buckinghamshire Healthcare NHS Trust staff to enhance a garden space at Stoke Mandeville Hospital.
On 6 April 2022 the Trust officially opened the 'Peace Garden' and with the funds raised the local community groups commissioned handmade furniture from Lindengate Mental Health Charity. The garden now provides staff with a restful and peaceful place to take a break from their busy working environments.
The Trust would like to thank Lacey Green and Loosley Row Community Action Groups, Princes Risborough Rotary Club and Loosley Row Garden Group for their continued support.
Bridget O'Kelly, Chief People Officer for the Trust said: "Thank you to all the groups involved in fundraising, supporting the Trust and donating this beautiful furniture. The garden is now a perfect space for our colleagues to take time to rest and reflect during their busy shifts."
Lacey Green and Loosley Row Community Action Groups have kindly been supporting the Trust throughout the pandemic, including fundraising, sewing equipment bags and donating refreshments.