Tracey Geddis wins British Journal of Nursing Urology Nurse of the Year award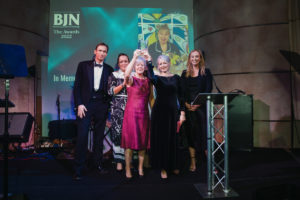 Tracey Geddis, Advanced Nurse Practitioner in neurogenic bladder management, was awarded Urology Nurse of the Year 2022 at the British Journal of Nursing awards on 25 March.
Sadly, Tracey passed away earlier in March, but she would have been both proud and humbled by the accolade. She dedicated over 30 years of her career to the care of patients with a spinal cord injury and sharing gold standard practice internationally.
Honouring Tracey at the event and accepting her award were colleagues from the National Spinal Injury Centre (NSIC). Zoey Pullar, Lead Nurse, and Hester Dunne, Tissue Viability Clinical Nurse Specialist, paid tribute to Tracey's dedication to the care of patients with a Spinal Cord Injury and the legacy that she has left to those who worked with her.
The NSIC Bladder and Bowel team were also awarded third place for their work during lockdown in the Cauda Equina Service. Anita Bryant, Bladder and Bowel Nurse, and Hazel Landymore, Advanced Occupational Therapy Practitioner, represented Tracey and the team for this award.
Zoey Pullar, Lead Nurse for the NSIC said: "Tracey's pride in the nursing profession was an inspiration and she flew the flag for gold standard bladder management across the globe, sharing her knowledge internationally. Tracey was determined that all patients got equality of treatment. She was a key part of the National Spinal Injuries Centre team at Stoke Mandeville for over 30 years and has provided a legacy and an aspirational role model for those who had the privilege to work with her."