Project Wingman visits Buckinghamshire Healthcare NHS Trust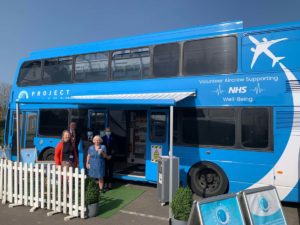 Project Wingman landed at Buckinghamshire Healthcare NHS Trust for two weeks in March offering colleagues an opportunity to talk and unwind in the first-class mobile lounge.
The charity first took flight in March 2020 in response to the COVID-19 pandemic. Furloughed aircrew went into hospitals to look after NHS colleagues during their breaks in 'first-class style lounges', offering vital wellbeing and mental health support.
The crew use and share their experiences of working in stressful and pressured environments in the airline industry and have provided colleagues with an opportunity to grab refreshments and recharge their batteries.
Feedback from colleagues
"It was great to be able to visit the Project Wingman bus and have a break from the wards and to see hard-working colleagues also being able to have a break."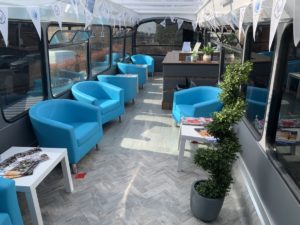 "Project Wingman provided a welcome sanctuary away from the busy stresses of the hospital."
"Having the Project Wingman bus on site prompted my teams to go and have a breather there on a sunny day. It was very mindful and the change in surroundings uplifted everyone's moods."
Bridget O'Kelly, Chief People Officer for the Trust said: "It's been great to offer colleagues the opportunity to take a break in a space away from their usual, and often high-pressured, working environments. I'd like to thank the Project Wingman crew for their time and support given to our colleagues over the last two weeks."
CEO Capt. Emma Henderson MBE and co-founder of Project Wingman, said: "It has been an enormous privilege for us, as a group of aircrew, to be a position to recently provide support to Buckinghamshire Healthcare NHS Trust and to the wider healthcare community for over two years.  I am so proud that our mobile lounge, Wingbee, has been able to visit the area with our now infamous tea and empathy service to continue to support and enhance well-being support offered by their trust."