Regional Chief Nurse surprises nurses with awards
The Regional Chief Nurse has surprised BHT nurses with prestigious national awards while on a recent visit.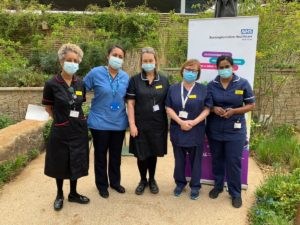 Regional Chief Nurse for South East Acosia Nyanin paid a visit to Buckinghamshire Healthcare NHS Trust this week (29 March). She was shown around the children's ward, the Same Day Emergency Care unit and the Short Stay Frailty Unit at Stoke Mandeville Hospital by Trust Chief Nurse Karen Bonner and her team.
At the end of the visit, Acosia surprised four of the nurses hosting the tour by presenting them with the prestigious Chief Nursing Officer and Chief Midwifery Officer Silver Award – recognising major contributions to patients and the profession:
Head of Nursing Acute Paediatrics Sally Harrison was nominated for being a dedicated children's nurse, supporting the development of a fantastic team who deliver consistent high-quality care to children in Buckinghamshire.
Matron for Palliative and End of Life Care Liz Monaghan received the award for being an outstanding, kind and caring leader. Liz also introduced the Purple Rose initiative which improves care for patients and their loved ones in the final days of their lives.
Advanced Nurse Practitioner in Haematology Asha Mathew was recognised for her contribution as an important part of the specialist senior nursing team who has been integral to supporting the recruitment of overseas nurses from her home country of India.
Consultant Nurse Jo Birrell was honoured with the silver award as an exceptional nurse who has dedicated the majority of her 37-year nursing career to be a voice for older and frail patients.
Regional Chief Nurse Acosia Nyanin said: "It's been wonderful to visit the Trust and meet some of the amazing nurses working here. It was also a real pleasure to be able to present awards to Sally, Liz, Asha and Jo for the brilliant work they do. They are a credit to the Trust and to the nursing profession."
Chief Nurse for Buckinghamshire Healthcare NHS Trust Karen Bonner said: "The awards presentation coincided with my two-year anniversary working for the Trust as Chief Nurse. Both made me reflect on the pride I have in our BHT family and the respect and appreciation for my nursing colleagues' dedication to their patients and to our profession."