Join #MissionRRIC as community crisis service expands
Local healthcare heroes are being challenged to join Buckinghamshire Healthcare NHS Trust's expanding rapid response crisis team in a 'blockbuster movie' trailer campaign featuring real-life NHS workers.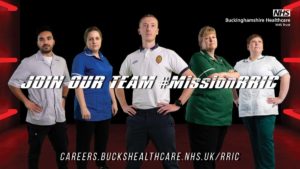 We are expanding our innovative Rapid Response & Intermediate Care or 'RRIC' service which provides urgent care for patients in crisis in the community within two hours, allowing them to remain safely in their own home and empowering recovery.
Almost 30 new job opportunities for Physiotherapists, Occupational Therapists, Nurses, Paramedics, Healthcare Assistants and Healthcare Assistant Practitioners are available across all 7 community bases in the local area: Buckingham, Aylesbury, Thame, Amersham, Chalfonts and South Bucks, Marlow and High Wycombe.
Watch the #MissionRRIC movie trailers and find out how to apply for the roles.
The #MissionRRIC campaign launches on Boxing Day and runs throughout January to inspire New Year fresh starts. Five one-minute films profile each of the roles being recruited.
Each professional describes the part he or she plays, shares their special skills and outlines their joint mission: to provide expert interventions and rehabilitation as part of a dynamic, tight-knit team that reacts quickly when local residents are in crisis.
Karon Hart, Deputy Director of Workforce and Wellbeing at the Trust, says: "The expansion of our RRIC service is a great opportunity for local healthcare professionals who are motivated by developing their clinical skills and thrive as part of a team. The #MissionRRIC campaign lets our best adverts – our own staff – speak for themselves and show why Buckinghamshire is such a great place to work."
Paramedic Heather Court is herself a recent RRIC recruit and one of the stars of the campaign: "Creating a Hollywood-style movie trailer was definitely outside my normal comfort zone, but in RRIC we do pride ourselves on our ability to develop new skills and respond confidently in any situation! I'm calling on physios, occupational therapists, nurses, healthcare assistants and paramedics to add their expertise to Mission RRIC."