New eye treatment at Stoke Mandeville Hospital first in region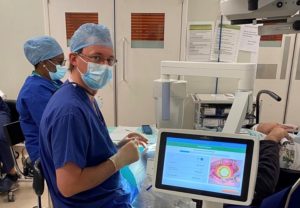 Earlier this month, Buckinghamshire Healthcare NHS Trust performed the first NHS corneal cross-linking treatment ("CXL") in Buckinghamshire and Oxfordshire. Using the Avedro KXL machine, Consultant Ophthalmologist Mike Adams performed the procedure at Stoke Mandeville Hospital.
CXL is a treatment for an eye condition called keratoconus, which primarily affects young adults and which, if left untreated, can lead to visual loss and can necessitate more invasive corneal transplant surgery. CXL stops the condition progressing and stabilises the patient's vision.
Keratoconus causes the cornea to weaken, get thinner and change shape. It affects between 1 in 500 to 1 in 2000 people, depending on ethnicity, and can be caused by a genetic predisposition, or by chronic eye-rubbing due to allergic eye disease.
Consultant Ophthalmologist Mike Adams said: "Keratoconus can have a significant impact on the lives of young adults of working age. Previously, our patients requiring CXL had to travel to London to access the closest NHS Provider. We are delighted that we can now offer this procedure here in Buckinghamshire, combining great care with easier access for people locally."