Brew a Buckinghamshire thank you for your local NHS
Buckinghamshire Healthcare NHS Trust Charitable Fund is inviting our local community to pop the kettle on and raise a cuppa to say 'thank you' to the NHS on its birthday on 5 July.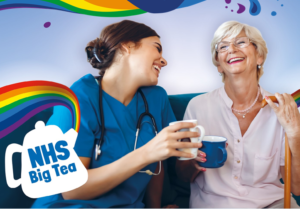 It's a chance to be part of the nation's biggest tea break – while also raising vital funds for the incredible people who've done so much to help everyone get through the pandemic.
Whether you hold a garden tea party with your neighbours, schedule a virtual cuppa with a colleague or organise an office cake sale – by hosting a special NHS Big Tea party or simply making a donation, you'll be making a huge difference.
Nelson Garcia-Narvaez, Charitable Funds Head of Finance and Governance for Buckinghamshire Healthcare NHS Trust Charitable Fund, said: "We would love the local community to brew a big Buckinghamshire thank you to the NHS and join us on our 73rd birthday! From purchasing life-changing equipment for patients to funding ground-breaking research to supporting the wellbeing of our colleagues, we'll make sure all the funds raised go a long way."
Create a fundraising event
Visit our Charitable Fund appeals page to:
download printable resources (including poster, cake cards and bunting)
donate Big Tea donations through Virgin Money Giving
register your event
make an individual donation
Examples of how we use fund
We use our funds to support, experiences and facilities for patients, carers and staff. This has included:
funding a wellbeing pod to provide staff with a calm and quiet space to stop and take time out of their busy days
supporting ground-breaking research into spinal cord injury through the Stoke Mandeville-Mason Research Awards
purchasing infant resuscitators to support infants' breathing
Ellie Orton, CEO of NHS Charities Together, which is behind the NHS Big Tea, said: "Many of us have a lot to be grateful to NHS staff and volunteers for following the year we have had. They have been at the forefront of the response to one of the biggest challenges our country has ever faced.
"NHS Big Tea is chance to show our support for them by joining a national outpouring of thanks this July. For many, this will be an outpouring of joy, celebrating the vaccine and all that it is allowing us to do again. For others, it will be an outpouring of thanks, for everything that our NHS champions have done for us. For some, sadly, it will be a moment of reflection for the loss of loved ones. Whatever the emotion, please join the nation's biggest tea break to raise money for the incredible people in our NHS."