Children's day unit playroom at Wycombe Hospital reopens
Ibrahim, age 7, was delighted to be the first patient in over a year to use the playroom in the Children's Day Unit at Wycombe Hospital this week.
The playroom, which closed in March 2020 due to the COVID-19 pandemic, has now reopened with strict infection control measures in place.
Play Specialists Nicola and Catherine – who have continued to offer play throughout the pandemic at the bedside and during procedures to reassure young patients – are thrilled to have the playroom back in action.
"The playroom is such an important part of helping our young patients feel welcome," says Catherine. "It helps us to build trust and provides a safe haven where children can have fun and let off steam during their hospital stay."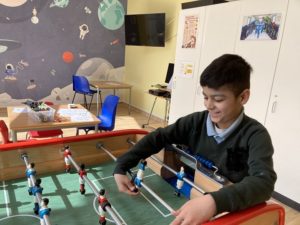 Ibrahim said: "I liked the air hockey best because I scored lots of goals!"