Nutrition and long COVID
Long Covid is defined as signs and symptoms that develop during or following an infection consistent with COVID-19, continuing for more than 12 weeks and are not explained by an alternative  diagnosis 1,2. The causes of Long Covid are yet to be fully understood. Research suggest that more than 2 million people in England have had Long Covid 3 and the range and severity of symptoms varies amongst individuals. Long Covid imposes a substantial burden on affected individuals, significantly limiting their ability to undertake daily activities.
Many of the symptoms are potential obstacles to adequate food intake, including the ability to shop and prepare meals.  Over time this can lead to / further exacerbate malnutrition, frailty and/or sarcopenia (the loss of muscle mass and strength due to the natural aging process), which ultimately impacts on recovery from COVID-19.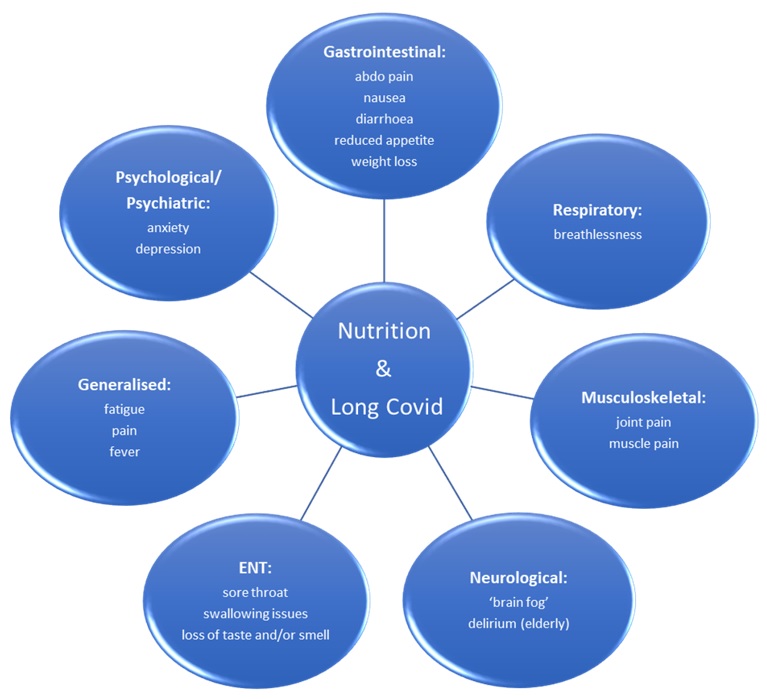 Nutrition support in Long COVID
Having good nutrition, so that the body has all the nutrients and energy it needs, is an important part of recovery from illness.  A balanced diet high in protein and energy rich foods is essential for minimising/preventing weight loss and promoting weight gain, rebuilding muscle/regaining strength and increasing energy levels to support everyday activities.
For more advice on nourishing diets, how get the most out of food and tips for eating well with COVID-19 related symptoms see:
Summary
The symptoms of Long Covid and their effects on nutrition and health are varied and far reaching. There is currently little evidence to support any foods, eating patterns or nutritional supplements for the management of Long Covid.  However, eating a varied and balanced diet, including protein, vitamins and minerals and the correct amount of energy, has multiple health benefits related to weight, immunity, gastrointestinal function and the gut microbiome, and has the potential to support recovery and rehabilitation from Long Covid.
Individuals struggling to optimise their nutrition or requiring specific dietary support should seek the advice of a qualified Dietitian or other Healthcare Professional.  Diets promoted to cure Long Covid which have little or no supportive scientific evidence may carry additional nutritional risks and should be avoided.