Our Trust Board
Our Trust Board is responsible for everything that we do. Our board members:
set the strategic direction, define objectives and agree plans for the Trust
monitor performance against objectives and plans
ensures financial stewardship through financial control and planning
ensures high-quality, patient-focused services through clinical governance
appoints, appraises and remunerates executives through corporate governance
ensures effective dialogue with our community and partners.
Read our Annual Report and our annual quality account to find out how we're doing.
How to join our Trust Board meetings
Our Trust Board meets each month (apart from August) and holds an annual general meeting every September.
Our next public board meeting
Will be held on: Wed 29 March 2023, 09.30
The virtual meeting will be open to the public, you can join the meeting via this link.
To submit questions please email by 4pm Tuesday 28 March.
Or you can message before/during the meeting via text/WhatsApp
Text/WhatsApp: 07920 590292
Board papers
Visit our publications library to find meeting agendas, CEO papers, recent and archived board papers.
Our board of directors
Our board affiliate members
Hannah Hornby, Board Affiliate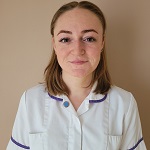 Hannah Hornby started her career as a Speech and Language Therapist in the Trust in 2013 working at Wycombe and Amersham hospitals and in the community before taking a more senior role at Hillingdon Hospital in 2015. She returned to the Trust in January 2020 and is currently based on the acute medical and critical care wards at Stoke Mandeville Hospital. Since returning to the Trust Hannah has worked on quality improvement projects to streamline discharge pathways and develop communication resources for intensive care unit patients. She participated in the Trainee Leadership Board (TLB) before becoming a Board Affiliate in September 2022. Hannah is looking forward to bringing her clinical knowledge and 'frontline' experience to the Board, to ensure that patient care and staff wellbeing are always top priorities.
Read Hannah's blogs about her experience as a Board Affiliate member.
Dr Sarah Lewis, Board Affiliate
Dr Sarah Lewis joined BHT as a Trauma and Orthopaedic Specialist Registrar in 2022 and is currently a trainee on the Thames Valley Orthopaedic Rotation. Sarah initially worked as junior doctor in London before taking time out of training to commence a PhD in Vascular Biology at University College London. Since returning to training she has developed a keen interest in quality improvement, specifically working on projects to reduce waiting list times and increase clinical governance effectiveness.  As a Board Affiliate Sarah is looking forward to building on her understanding of clinical improvement strategies and using this to enhance patient outcomes.
Sarah lives locally with her husband and pet Labrador, Maple.