Pencil grasp
One of the most crucial elements of an effective pencil grasp is that it is dynamic. This means that most of the movements for writing come from the thumb, using the fingers to support.
If a pencil grasp is static (which usually occurs from using too much pressure or wrapping the thumb around the pencil) then it is harder to create fluid movements for writing.
Whilst some children can learn to write using a static pencil grasp, it is more likely that the development of a dynamic pencil grasp will support good handwriting control, quality, speed and comfort in the long term.
The strategies listed below can support the development of a mature pencil grasp. Here are some additional activities that can be tried to support development in using a pencil: Fine Motor Skills.
It's also important that children have opportunities to participate in various fine motor activities. This will help to strengthen the muscles of the hand and to support them in learning how to move their fingers.
The pom pom trick
This involves giving the child something small to hold in the palm of their hands (pom pom, penny, cotton wool) using just their 4th and 5th fingers. The remaining 2 fingers and thumb are then free to grasp the pencil.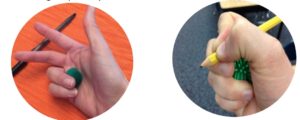 Pencil grips
There are a wide range of pencil grips available to help support a more mature, dynamic grip. Different grips work for different people so it is worth trialling a few different ones if the first on you try doesn't work out.
Most of these pencil grips can be found online or in stationary stores and there is an extensive range available. Some examples include the Satbilo Easy grasp, the Stabilo Easy Ergo, the Twist n' Write wishbone pencil, The crossover pencil grip, foam pencil grips and many more.
Comfortable sitting position
In order to be able to learn and use your hands effectively, it is important that children are comfortable and well positioned – see our resource information on posture.