Health on the high street set to open in Aylesbury town centre
The Trust is testing out a new initiative called 'health on the high street' in Aylesbury town centre.
The first 'health on the high street' pilot scheme is set to open later this summer in the heart of Aylesbury within the Friars Square shopping centre.
The high street plays a pivotal role in our communities as the place where people shop, meet and work. 'Health on the high street' enables healthcare services to be delivered alongside public health and wellbeing initiatives, as well as social support services in the middle of our local town. It is designed to create an integrated system centred around the needs of our local people and communities.
From unit 33 in Friars Square shopping centre, local residents will be able to access healthcare services and advice including:
Preventative healthcare advice and screening
Children and Young people services
Maternity advice and support services
Vaccinations
Older peoples' support
This pilot scheme, a joint initiative with Buckinghamshire Council, has been initiated in recognition of the fact that public services need to serve our communities better, especially in areas of deprivation where they need to be easy to access.
Data shows that Aylesbury has higher levels of deprivation and lower life expectancy than other areas in the rest of the county. With areas ranking amongst the 30% most disadvantaged areas in the UK.*1
Jenny Ricketts, Deputy Chief Operating Officer for the Trust said:
"Health on the High Street aims to improve the health and wellbeing of all our local residents, particularly those in greatest need within our communities, through accessible and joined up public services. It is hoped that this initiative will support the revitalisation of our town centres, as vibrant community spaces.
"We're very proud to be launching this exciting pilot. As a Trust, offering integrated services both in hospital and in the community, our teams are expert in delivering care in community venues across the county."
Angela Macpherson, Buckinghamshire Council's Deputy Leader and Cabinet Member for Health & Wellbeing, said:
"We're delighted to be supporting this pioneering initiative by providing a vacant unit in Friars Square Shopping Centre. The town centre is the ideal location – enabling local people to conveniently access healthcare services while visiting shops and businesses.
"We're proud to collaborate with the Trust on a project that puts healthcare at the heart of Aylesbury and provides a boost to local businesses by increasing footfall in the town centre."
Simon Kearney, Senior Programme Manager, Primary Care Integration, Buckinghamshire, Oxfordshire and Berkshire West Integrated Care Board said:
"Health on the high street is a great example of an initiative that's designed to tackle health inequalities by combining a raft of different services from different providers and making them easy to access."
Watch a video that explains the concept of Health on the High Street.
Contact the communications team at the Trust (bht.communications@nhs.net) to let us know what services you would like to see offered in this town centre space.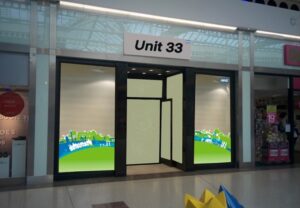 Pictured above: Unit 33 in Friars Square shopping centre, Aylesbury the first venue for the Health on the High Street initiative.